Junior Sailing
Salterns & KYC Juniors
KYC Salterns Group
Aimed at introducing new and young sailors to the basics and building water confidence using the facilities of Salterns Sailing Club.
Available for novice primary school age sailors.
1) Absolute beginners and the very young - water familiarisation (correct position in boat and grip on tiller and sheet) reaching between adults.
2) Beginner - Introduce sailing upwind, tacking and safety skills
Our associate membership at Salterns is £55 per year per child. Please complete the Salterns booking form and pay before your first session. A parental consent form (found at the bottom of this page) will also need to be completed, and returned to the KYC office. For further information on the Salterns Associate Membership please click here.


Junior River Sailing
Junior River sailing at Keyhaven is the next step on from the Salterns Sailing group, which gives the children the opportunity to develop their skills and experience on the River in a relaxed and safe environment, allowing them to play a full part in the Club's sailing activities.
The aim of our sailing sessions is to encourage children to flourish in a relaxed informal atmosphere and to provide them with a solid foundation. This will hopefully allow them to develop a lasting passion for sailing in whatever capacity, whether it be to go on and become a competitive sailor or simply to have the confidence to enjoy being on the water.
Aimed at slightly more experienced sailors; for ages (approx.) 8/9 up to 13/14 who know the basics having mastered a tack, sail upwind, and are looking for the next challenge.
We have a great assortment of dinghies to use - four optimists (which are the perfect beginner's boat), five RS Teras, three Zests, three Qubas, two O'pen Skiffs and a Topaz Magno that children can learn to crew on. Alternatively, you can bring your own dinghies, as long as they are insured and fitted with a towline of at least 2 metres, secured to a strong point on the boat.
Up to four support boats will be on the water for each session, crewed by parents with suitable qualifications. We encourage parents to gain their RYA Powerboat Level 2 certificate so that they can drive one of the club RIBs.
None of this is possible without the help and commitment of the parents. We do need a certain amount of competent adult volunteers in various roles both on and off the water to make each session possible so please be prepared to get involved and happy to sign up for a rota!
There is a full programme of sailing running from late April through to October. We would love to make it every week, but we are constrained by the tides and other sailing events at the Club.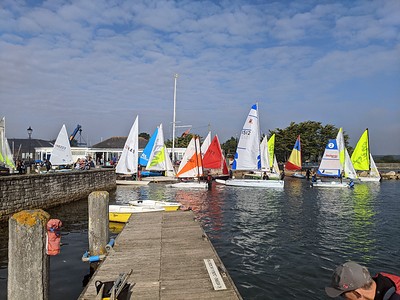 We hold a Junior & Youth Regatta each year which always proves to be a highlight of the season.
Alongside all the sailing there are regular informal picnics and BBQs after sessions, as well as the monthly family pizza and film nights, which are a fantastic way to get to know one another and really feel a part of our wonderful club.
Downloads
Last updated 10:06 on 3 October 2023